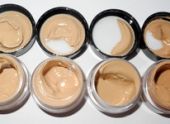 As a woman ages, a main concern is often her appearance. There is no denying that the world caters to younger woman and as a person matures she can face scrutiny for her looks. Career opportunities, relationships and even self-esteem can all suffer if a woman feels negatively about her own appearance. For that reason, more and more women are turning to age defying make-up to give them that much needed boost. There is certainly no shortage of products on the market today all claiming to give women the younger looking skin they desire. For a woman on a limited budget it can be near impossible trying to determine which ones will actually deliver on their promises. For this reason having a little insight into what works, can save a woman not only money but frustration as well. Some commonly available age defying make-up brands that back up their claims are:
Clinique Blushing Blush – Color: Precious Posy. A great tip for any woman to use as she ages is to apply colors that are softer. Wrinkles can become much more prominent if a woman is using too dark of a foundation or blush. This Clinique product works well for mature women and should be applied in the center of the cheeks. When a woman ages it is time to throw away any cream blush or any dark blush. The same is true of bronzing powders which look fantastic on women in their twenties and thirties. They can really age an older woman though and should be avoided at all costs.
Bobbi Brown Shimmer Wash Eye Shadow. This product is great for women who like a small shimmer in their eye make-up. Many young women opt for frosted shadows and then stick with that throughout their adult years. This can cause a problem as a woman ages and the frosted brands can actually make lines and wrinkles even more noticeable. As for color, this brand does come in a nice selection and it's advisable that a woman who is mature stick to more neutral shades. Playing up your other features will still give you a polished look.
Cover Girl Advanced Radiance Age-Defying Makeup. This makeup is specifically designed for maturing women. It is meant to be used on a daily basis and a woman can expect to see noticeable results in about three weeks. It comes in several different shades so any woman can choose one that matches her own skin tone. One very appealing aspect of this makeup is that it won't clog pores, so women who are prone to break-outs won't have that concern to contend with.
Cover Girl Advanced Radiance Age-Defying Powder. Pressed powder is a must for any woman who wants a polished look. It is also crucial for a woman who suffers with oily skin. Many pressed powders are unsuitable for mature skin because they are too heavy. This product is much lighter and it won't settle in small lines. This is important because if a mature woman uses a regular powder she will soon discover that it highlights every small wrinkle she has on her face.
Revlon Age Defying Precise Wrinkle Eraser with Botafirm. When a woman begins to notice wrinkles she may at first panic and then she'll begin a journey to find a product that can help curb those fine lines. Although there has been some discussion regarding how effective age defying products are, this one has proven itself. Many women can see a noticeable difference in crow's feet and the fine lines that tend to develop right around the lips, immediately. When used on a regular basis, those results are even more prominent.
Revlon Age Defying Concealer with Botafirm. One area of the face that troubles many women is under the eyes. Not only do small wrinkles tend to pop up here as a woman matures, but there is also the issue of dark circles to contend with. Most products on the market that address this issue are designed for younger skin. With this Revlon product, a more mature woman can get coverage for the dark areas under the eyes as well as treatment for wrinkles, all in one simple to use product. A particularly nice feature about this is that it comes in four distinct shades so every woman can use it.
Clinique Repairwear Intensive Lip Treatment. On many women the first wrinkles they notice appear just around the lips. Although these can often be disguised with the right foundation, they should be treated before they become more noticeable. One great product that helps minimize the appearance of these fine lines is the Clinique Lip Treatment. It should be applied directly to the lips and the areas surrounding the lips. Another great tip that works in conjunction with this is a lighter lipstick shade. Darker shades, such as deep reds draw the eye to the mouth area and for a woman trying to pull attention away from her lips, this doesn't work well.
Dream Lips Age Defying Plumping Serum. Many women turn to plastic surgery as a way to stop the hands of time. One area of a woman's face that is often an area of concern as she ages is her mouth. Lips can droop a little and as wrinkles develop above the top lip, a woman can become very self-conscious. This may lead to her covering her hand with her mouth when she talks or even applying darker lipstick in an attempt to hide the fine lines. Both of these are counter productive though and instead of drawing the eye away from the mouth, instead the mouth becomes the focal point. A very effective alternative is to plump up the appearance of the lips. Although there are many products that claim to do this, one that really works is Dream Lips Age Defying Plumping Serum. This easy to apply product gives immediate results. It works well for not only more mature women, but women of any age who want fuller lips.
It can be tempting to purchase just one line of skin care and make-up products. This generally isn't advisable even for younger women. It's much better to approach make-up as a mix and match endeavor. Because many make-up brands now give out free samples to customers, this is a wonderful way for a woman to experiment with new products to find one that works with her skin. There is absolutely nothing wrong with using a foundation from one brand with a concealer from another. It's truly more about helping a woman feel and look younger while at the same time providing the care her skin requires.
Following a few basic application techniques also can help a woman look much younger. When putting on lipstick it's always important to dab it. Also, lip liner should never be used on an older woman as it only draws attention to the mouth area where fine lines may be hiding. Shades used for eye shadow should be chosen carefully and it's always a nice idea to opt for a lighter color in eye liner. Instead of a stark black, a more mature woman should instead consider a dark blue or brown. This helps soften the entire look of the makeup.
Using one moisturizer for daytime use and another for night time can also really improve the look of a woman's skin. It's important to remember that skin does change over time and even if a woman could get away with no moisturizing creams in her twenties, that won't be the case as she enters her forties and fifties. Skin needs to be nourished everyday. Although it can take some time to find a product that works well, a woman should never give up. It's also not advisable to run out and purchase the newest, most expensive age defying creams as they don't always deliver on their promises. Instead a woman should go to the beauty counter armed with the knowledge of what her skin type is and whether or not she reacts to any perfumed products. Understanding your own skin is really the key to maintaining a youthful appearance. As is the case with any skin care cream, ensure the one you purchase provides some sun protection. Even if you are older, you still need to keep your skin away from damaging UV rays.
As much help as the right products are, the right attitude also goes a long way into helping a woman look and feel terrific about herself. In addition to choosing makeup products from the list above a woman should eat properly and exercise regularly as she matures. This will not only enhance the effects of the makeup it will also keep her feeling younger. Any woman can look great as she gets older and using any of the products made for aging skin is a wonderful first step. Just as a woman's body changes as she gets older, her make up routine should adjust as well. Embrace the more mature of you and you'll be amazed at how good you look and feel.